Medical errors contribute to more than 250,000 deaths in the United States each year alone —making them one of the leading causes of death. Even more important is the fact that up to 80 percent of medical errors are preventable, according to the World Health Organization (WHO).Medical errors also cost around $20 billion a year, contributing to the healthcare burden.
Medical errors are a common source of litigation and can be due to inaccurate or incomplete records, mistaken patient identities, and misdiagnoses. Electronic medical records (EHR) can help prevent liabilities by reducing the above.
Not only can EHR systems help reduce risk, but they also enable better medical care overall. A survey of doctors recently released by the Office of National Coordinator for Health Information Technology (ONC) found that 94 percent of doctors feel that their EHR makes records readily available at the point of care, and 88 percent report that the EHR provides significant clinical benefits.
Risk & Liability in Medical Settings
Medical settings are complex environments that require a high degree of expertise and professionalism. Despite the best efforts of healthcare providers, there are various risks and liabilities that can arise. Understanding these risks is essential for medical settings to develop strategies to minimize them and avoid potential legal and financial repercussions. Medical malpractice is one of the most significant risks in medical settings. This refers to the negligence of healthcare providers that results in harm to patients, including injury, disability, or death. Medical malpractice claims can arise from various errors, such as misdiagnosis, medication errors, or surgical errors. Such errors can be the result of various factors, including human error, communication breakdowns, or system failures.
Another risk that medical settings face is data breaches. These settings often hold sensitive patient information that is valuable to hackers. A data breach can result in the loss or theft of patient data, which can lead to legal action and damage to the reputation of the medical setting. Medical settings must take efficient steps to secure patient data, including implementing strong password policies, using encryption, and limiting access to sensitive information.
Medical settings are also subject to various regulations that they must comply with. For example, the Health Insurance Portability and Accountability Act (HIPAA) requires medical settings to protect patient privacy and ensure the confidentiality of patient information. Occupational Safety and Health Administration (OSHA) regulations require medical settings to provide a safe working environment for employees. Non-compliance with these regulations can lead to fines, legal action, and reputational damage.

It is essential for medical settings to have robust compliance programs in place to ensure that they are following all applicable regulations and avoiding potential liabilities. Such programs should include regular training and education for staff, ongoing monitoring and evaluation of compliance, and a clear process for reporting and addressing any compliance issues that arise.

Let's look at how a sound EHR system can prevent liability issues for healthcare providers, improve patient satisfaction, and more.
Better Care Through Better Data
While it's easy to think of a practice's EHR strictly as an information-management system, these systems do much more than take in, store, and transmit information for members of the practice. A sound EHR system allows medical practices to reduce liability and provide better patient care by managing patient data.
Data from the ONC shows that an EHR can improve a healthcare provider's ability to diagnose diseases, prevent medical errors, and produce better patient outcomes.
Let's take a closer look.
Complete, Up-to-Date Medical Information
According to The Office of the National Coordinator for Health Information Technology (ONC), patients receive better medical care when healthcare providers have access to accurate and complete health information. That really isn't a surprise. Decision-making in healthcare relies on having complete, correct information. Healthcare providers can't know what they can't see. Incomplete and inaccessible records create liabilities for healthcare providers and practices.
Electronic health record enables healthcare providers to make better decisions by providing access to complete, up-to-date information.
Eliminates Data Gaps
An electronic health record (EHR) allows for quicker diagnosis and medical decisions because it eliminates data gaps —providing a complete view to physicians and other providers. The complete view can be shown through integrations with information such as medication history, laboratory orders, and results. This allows the care provider to make a diagnosis sooner than they would be able to when dealing with data gaps. This speed can even prevent some avoidable conditions using early intervention.
In addition, eliminating data gaps can help reduce the need to repeat diagnostic studies that have already been done. It also provides greater patient satisfaction as it prevents providers from asking patients questions they have already answered many times before.
Reliable Access to Patients' Complete Health History
The entire healthcare team at a facility of any size can save time and have more confidence in their decisions when they have an EHR that provides reliable access to a patient's health history.
Providers need to know whether or not patients have allergies, a history of adverse reactions to medications, or are taking medications that could interact with other forms of treatment, alternatively called Drug-Drug interactions. Having a complete, reliable health history provides this information and more. It also helps:


Reduce the likelihood of medication errors. When a provider prescribes a new medication, the EHR system will provide information to confirm that the medication is safe and appropriate based on the patient data on record. This can help reduce the risk of a medication error that could lead to medical litigation.
Identify risk factors. Information from a patient's history can help doctors and other medical providers identify risk factors that could indicate a potentially severe condition.
Personalized Care
Electronic Health Records (EHR) are digital versions of a patient's medical chart that healthcare professionals can access and update. With EHRs, physicians can provide personalized patient care that goes beyond what was possible with traditional paper charts.

By having access to a patient's entire medical history in one place, healthcare professionals can gain a comprehensive view of their health status. They can see labs and test results over a period of time, which allows them to identify patterns and make informed decisions about treatment.

Moreover, EHRs help healthcare professionals keep track of patients' preventative care needs. For example, physicians can use EHRs to remind patients of scheduling annual exams, chronic care follow-up visits, and preventative screening services. This proactive approach can help patients avoid serious health problems and improve their overall quality of life.

EHRs offer significant benefits to both healthcare providers and patients. They allow healthcare professionals to deliver more personalized care, improve the accuracy and completeness of medical records, and reduce errors and duplications. This, in turn, can lead to better health outcomes, increased patient satisfaction, and more efficient healthcare delivery.
What Features Are Most Helpful When It Comes to Reducing Liability?
So, what should you look for when choosing an EHR for your medical practice or clinic? Specific features that can drastically reduce liability issues for healthcare providers should be considered when selecting EHR software. Those liabilities can be from staff members stealing confidential information, issues of privacy, hacking, and other concerns.
These liability issues can put the reputation of a health service provider at risk. An EHR software can effectively ensure the safe and secure management of patient data, resulting in the minimization of liability issues.
Here are the core features to look for when selecting an EHR platform: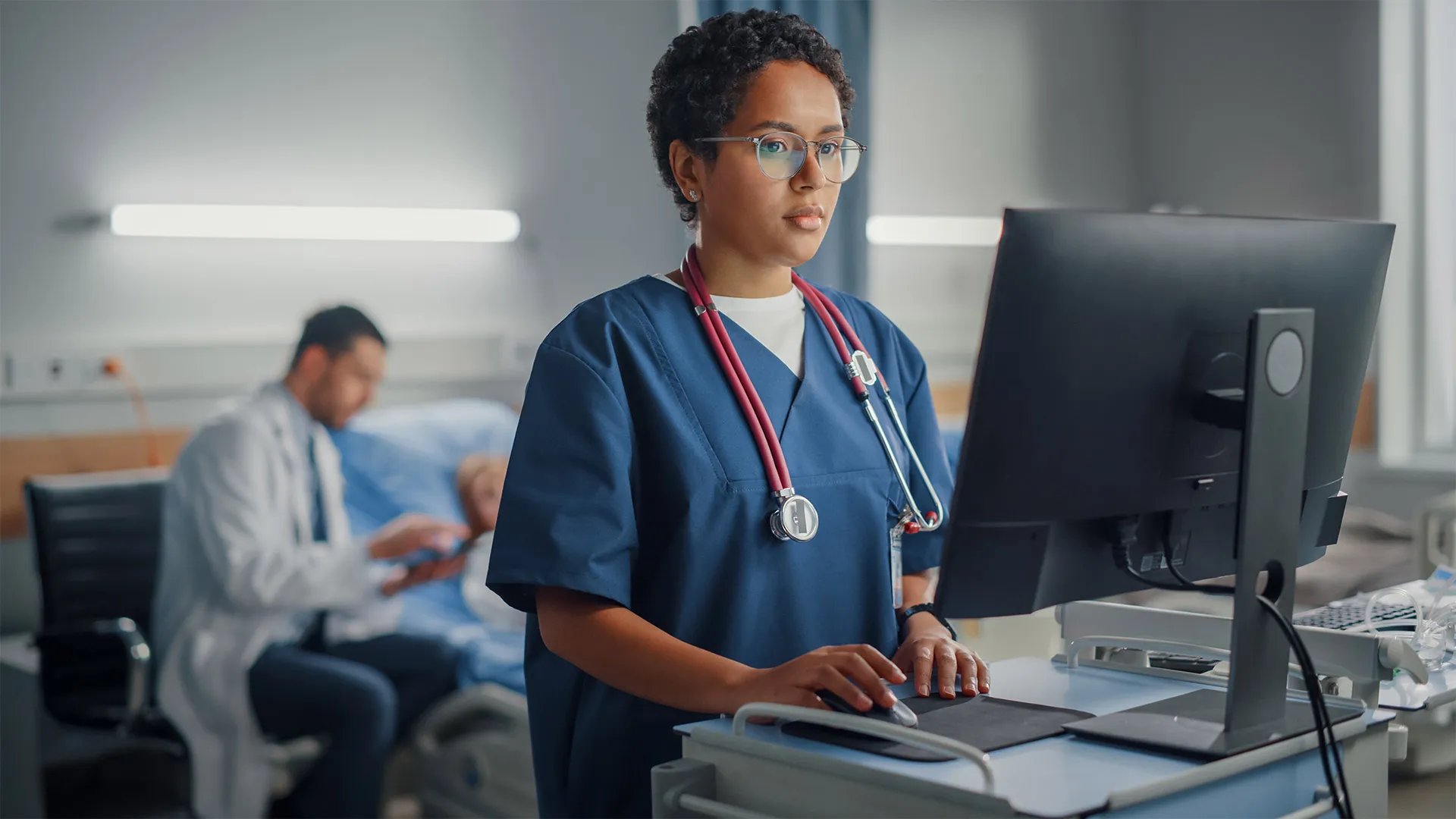 Auditing Functions
According to a 2020 published review on the insights and implications of healthcare data breaches, healthcare data is more sensitive than other types of data because early tampering can lead to faulty treatment. This can cause irreversible patient losses and even be fatal in some cases.
This same analysis found that attackers target healthcare more than most other industries. More than 249.09 million individuals were affected by healthcare data breaches from 2005 to 2019.
Recent data published by Politico unveiled that 330 data breaches in the healthcare sector have been reported in 2023, affecting 43 million people.
An electronic health record (EHR) can automatically flag anything suspicious for review teams. This helps catch problems early before they result in medical errors.
Data Security
While many practices focus on systems that can keep patient data organized, not enough are going far enough to keep that data adequately secured. It's essential for an EHR system to provide security to both staff and patients. When data is kept safe, it leads to better outcomes for patients. Ensuring data safety also leads to an increase in patient trust in the services of a practice.
For example, Practice EHR can track the electronic footprint of each user and IP address to provide a detailed analysis of who is accessing the system.
On the Practice EHR platform, security groups can be customized by the medical practice to ensure that the right people have the right levels of access to features and functions based on their menu roles. This can be vital for adhering to HIPAA Privacy Rule regulations that set limits and conditions for how informational uses and disclosures may take place without a patient's authorization.
Clinical Tracking of Notes
Clinical tracking of notes is vital when it comes to reducing liability. EHRs often provide clinical tracking of notes to verify that all notes are completed and signed to support charges submitted to insurance plans. In addition to ensuring that confidential patient information is only sent to appropriate and authorized parties, this privacy-oriented feature also helps to reduce claim rejections and bottlenecks that could delay payments to the provider.
An EHR that Provides More
It is helpful for practices to look for an EMR that provides more than just liability protection. Practices should look for an EHR system that streamlines the entire patient experience on a single platform by providing:
A secure place for policies, and procedures.
Best practices for passwords and security.
Locking of patient records.
Document tracking.
Backups of records.
Practice EHR Provides Liability Protection and So Much More
Put the focus on patient care while having the peace of mind that comes with using the only medical software solution that secures every aspect of a practice's data-management cycle. Designed with today's overstretched practices in mind, Practice EHR works with any medical specialty to create a more robust patient-provider experience.
Our software streamlines check-in, check-out billing, claim submission, scheduling, and more! Practice EHR is an easy-to-use, cloud-based solution that lets healthcare practice stakeholders work from anywhere and anytime.
Put your patient data protection on priority by opting for reliable and secure electronic health record (EHR) software. Request a Demo today and find out why Practice EHR claims to be your one-stop solution to all practice management problems!